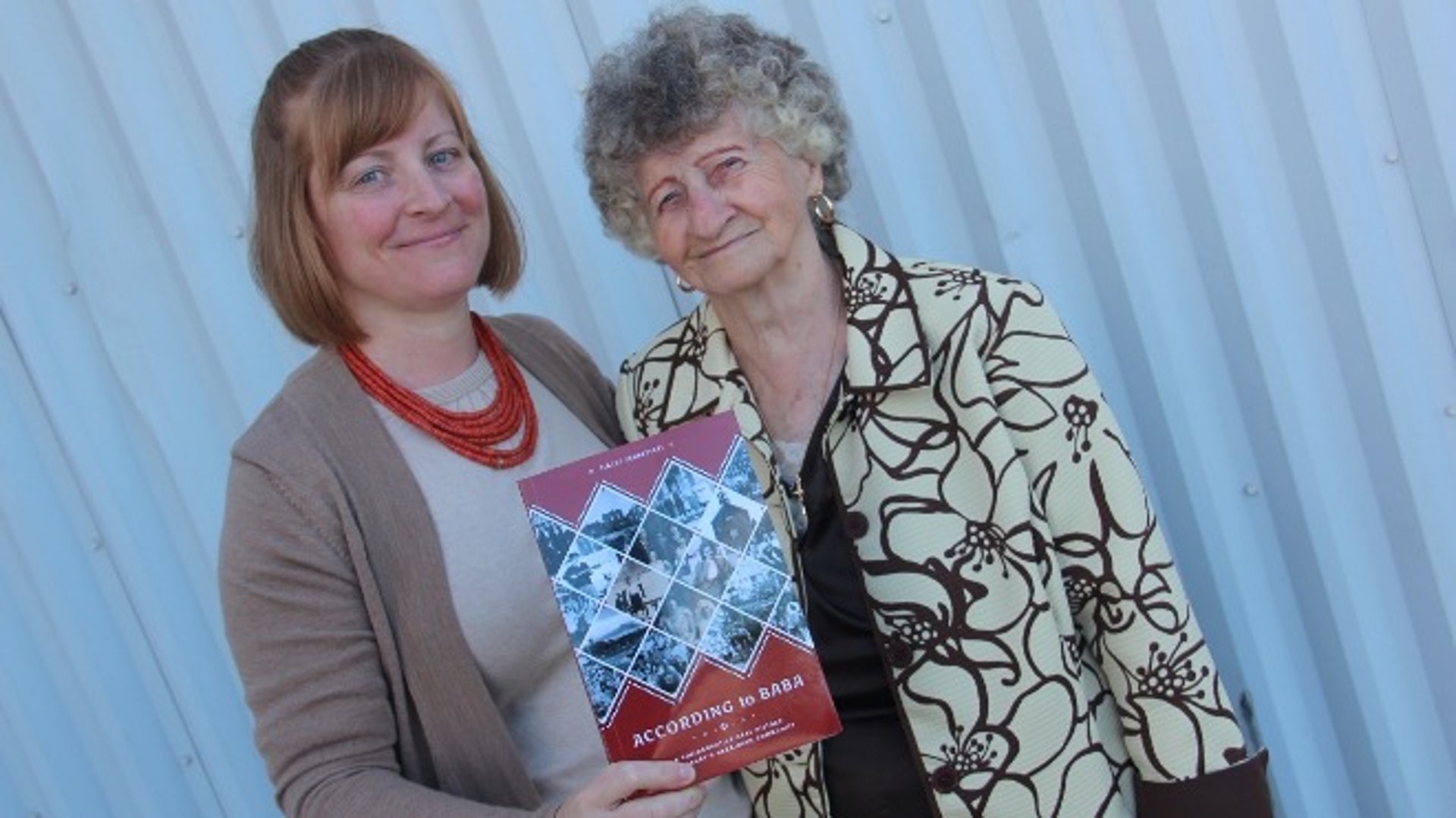 Dreams of steady employment in the mining sector led thousands of Ukrainian immigrants to northern Ontario in the early 1900s. As a child, historian Stacey Zembrzycki listened to her Baba's stories about Sudbury's small but polarized community and what it was like growing up ethnic during the Depression.
According to Baba grew out of those stories, out of a granddaughter's desire to capture the experiences of her grandparents' generation on paper. Eighty-two interviews conducted by Stacey and her grandmother, Olga, laid the groundwork for this insightful and deeply personal social history of one of Canada's most colourful ethnic communities. The interview process also brought to light the challenges of doing collaborative oral history with community members, particularly as Stacey lost authority to her Baba, wrestled it back, and eventually came to share it, and as interviewees met questions with nostalgic reminiscences, subversive humour, or impenetrable silence.
By providing a realistic glimpse into the hard work that goes into making communities partners in oral history research, this book provides a new paradigm for studying the politics of memory, one that recognizes that people are not passive recipients of their histories but rather counter and create narratives about the past by invoking alternative ways of remembering.
Stacey Zembrzycki, "Bringing Stories to Life: Using New Media to Disseminate and Critically Engage with Oral History Interviews," Oral History 41, 1 (Spring 2013), 98-107.
This article is a reflection on how the digital revolution affected my first major project as an oral historian: a study of the Ukrainian community in Sudbury, Ontario, Canada. Digital technology reared its head in every stage of this project and my experiences speak to the rapid and recent digital transformation that has shaken up the field of oral history. Here I discuss the opportunities and challenges I faced when recording, organizing, interpreting, disseminating, and critically engaging with my interviewees' stories. Specifically, I provide a detailed summary of my efforts to create a searchable interview database using Stories Matter, free open source software, and this website. New media allowed me to bring my interviewees' stories to life in new, innovative, and important ways.
Stacey Zembrzycki, "'We didn't have a lot of money, but we had food': Ukrainians and Their Depression-Era Food Memories," in Edible Histories, Cultural Politics: Towards a Canadian Food History, eds., Franca Iacovetta, Valerie Korinek, and Marlene Epp, 131-139 (Toronto: University of Toronto Press, 2012).
Drawing upon 82 oral history interviews, this chapter reconstructs the childhood experiences, especially regarding food, of Ukrainian Canadian children who were born in the 1920s and thereby carry memories of childhood in the Depression era. Although all of the interviewees now reside in Sudbury, half of them were raised on farms in Manitoba and Saskatchewan and the other half in Sudbury boarding houses – which allows for a comparative analysis. This chapter looks specifically at how region affected familial gender roles and the production and consumption of food. Gender roles were clearly defined in boarding houses while gender was a blurred category in farming families, where family members worked together to make their farming endeavours productive ones. Although gender roles tended to be quite traditional – mothers and daughters cooked, cleaned and raised children, while fathers and sons worked in the fields – there were many instances in which men, women and children stepped into untraditional gender roles when necessary. By contrast, boarding houses were highly gendered and traditional spaces. Mothers cooked and tended to their boarding businesses, fathers worked outside of the home usually in the local nickel mines, and girls cleaned and cared for siblings while boys ran errands for their mothers and spent their spare time bonding with boarders. The exceptions were few. Gender roles may have varied but Ukrainian food was one constant found in both of these regionalized spaces. Prepared by mothers, these recipes were among interviewees' favourites and played important roles in shaping their Ukrainian Canadian identities.
Stacey Zembrzycki, "'I'll fix you!': Domestic Violence and Murder in a Ukrainian Working-Class Immigrant Community in Northern Ontario," in Re-Imagining Ukrainian-Canadians: History, Politics, and Identity, eds., Rhonda Hinther and James Mochoruk, 436-464 (Toronto: University of Toronto Press, 2011).
Between 1913 and 1939 there were seven capital murder trials in Sudbury, Ontario, five of which involved Ukrainian working-class immigrants. The murders, all of which took place in and around the spaces the victims would have identified as their homes, included one male-on-male murder, one infanticide, and three domestic murders of women by former partners and admirers who were not their husbands. For the most part, there is nothing truly exceptional about any of the murders that occurred in this Northern Ontario mining community. They did not attract international attention nor did they inspire memorable clemency campaigns. In fact, these cases have not even figured in the national collective memory, and although they received coverage in local newspapers, they have all but vanished from the community's public memory as well. These cases, as this chapter argues, become important however when they are studied concurrently. In particular, they elucidate patterns, showing how gender, class, age, and ethnicity impacted the construction of northern notions of Ukrainianness in the first half of the twentieth century. Moreover, by telling the stories of those who often did not fit comfortably into the larger ethnic community, these cases insert these traumatic crimes, which have been largely ignored facets of immigrants' lived experience, into the historical record.
Stacey Zembrzycki, "Sharing Authority with Baba," The Journal of Canadian Studies 43, 1 (Winter 2009), 219-238.
Coined by Michael Frisch in 1990, "shared authority" captures the essence of the oral history enterprise. Emphasizing the collaborative nature of the discipline, it forces us to think about how we may make oral history a more democratic cultural practice. This essay endeavours to explore some of the challenges that oral historians face when they attempt to share authority in their interview projects. In particular, it is a case study that scrutinizes the origins of the author's doctoral dissertation, her oral history methodology, and her struggle to include her Ukrainian Catholic grandmother, her Baba, in this project. In this instance, collaboration occurred not just with the author's interviewees—a more familiar methodological consideration—but also with a fellow interviewer who happened to be a member of the author's family: her Baba.
Stacey Zembrzycki, "'There Were Always Men in Our House': Gender and the Childhood Memories of Working-Class Ukrainians in Depression-Era Canada," Labour/Le Travail 60 (Fall 2007), 77-105.
As an exploration of the childhood memories of working-class Ukrainians who grew up in Depression-era boarding houses (or houses with a few boarders) in Sudbury, Ontario, this article treats the oral histories as the subject, not merely the method, of analysis and highlights, in particular, the gendered differences that emerge in the narratives of the men and women who were interviewed for this project. Moreover, this article argues that even within a politically polarized immigrant group such as the Ukrainians, where left/right, progressive/nationalist, and secular/religious splits were so pronounced, and thus central to shaping the histories and historiographies of both camps, it was the influence of dominant gender roles rather than politics, religion, or ideology that most directly informed the differing memories of experience that men and women had of growing up Ukrainian and working class in Sudbury. In particular, this article focuses on informants' recollections regarding three areas of activity that were part of everyday boarding house life: children's relationships with male boarders, their domestic chores, and leisure.
Stacey Zembrzycki, "Memory, Identity, and the Challenge of Community Among Ukrainians in the Sudbury Region, 1901-1939," PhD Dissertation, Carleton University, 2007.
This dissertation examines the ways in which Catholic, Orthodox, nationalist, and progressive Ukrainian men, women, and children, both immigrants and those of Ukrainian descent, formed a distinct ethnic community in the Sudbury region between 1901 and 1939. Specifically, it demonstrates how the community developed, paying particular attention to the ways that individual and group identities, social networks, and power relations impacted its evolution over time. Moreover, this dissertation depicts the ways in which the host society, on a local, regional, and national level, perceived and treated Sudbury's Ukrainians. Set in a period of change for this ethnic community, the region, and the country more broadly, this dissertation offers new narratives about World War I, the so-called "Roaring Twenties," and the Depression. In addition to viewing gender, ethnicity, class, region, and age as important categories of analysis, it regards community as a problem which ought to be studied. Community, in this instance, is not a simple and static entity, but rather an imagined reality, a social interaction, and a process. The adoption of a fluid model thereby enables an examination of the varying ways in which individuals, Ukrainians and non-Ukrainians, attached different meanings to community. These meanings, as this dissertation argues, were dependent upon the geographic spaces that these individuals occupied, the social networks to which they belonged, and the real and imagined identities and experiences that they had both within and on the margins of their communities. This dissertation not only reconstructs the contours of this ethnic community and the ways in which its members negotiated their places within and outside of it, but also includes a discussion of the author's archive stories. Sensitive to what constitutes as an archive, it is a highly personal journey into the author's imagined Ukrainian community, her Baba's (grandmother) Ukrainian community, and the communities which other Ukrainians in the Sudbury region have experienced. The archive stories which wind through the narrative of this dissertation detail the challenges of working with both written and memory sources and at the same time, offer new interpretative frameworks for understanding the histories of immigrant communities.