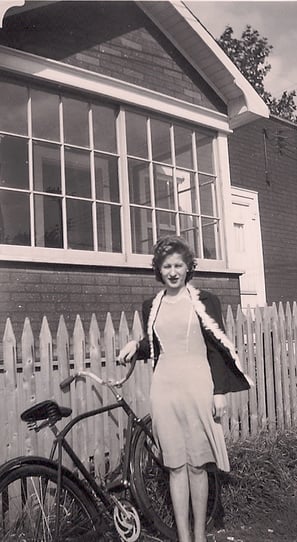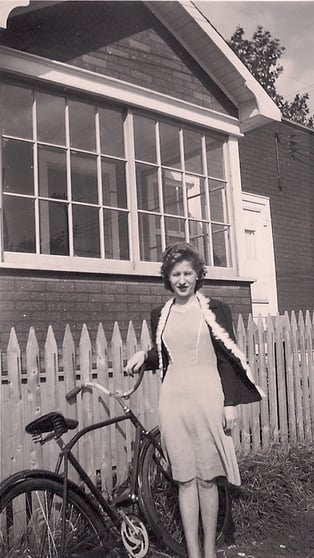 Baba acted not only as a co-interviewer for this project, but also as its "secretary." Given this reality, she was often the first person to make contact with those we interviewed. Most of these individuals were a part of her social network and included members of St. Mary's Ukrainian Catholic Church, friends and neighbours from the Donovan, the neighbourhood in which she grew up, casual acquaintances, and family friends that she had met in various Ukrainian and non-Ukrainian public and private spaces. Politically, religiously, and ideologically diverse, our interviewees included Catholic, Orthodox, nationalist, and progressive Ukrainian men and women. The interviews that Baba and I conducted thus tell stories about Sudbury's Ukrainian community while reflecting on Baba's social world and the relationships and conditions that sustained it.
Together, Baba and I conducted 72 life story oral history interviews, between October 2004 and June 2005, with Ukrainians who were either born or raised in Sudbury, or who came to the region prior to 1945; I conducted 10 other interviews on my own. Of these interviewees, 50 were women and 32 were men. Moreover, 23 grew up in Manitoba and Saskatchewan, while 49 grew up in Northern Ontario; the 10 remaining interviewees grew up elsewhere, usually in Eastern Europe. As for political affiliations, 9 interviewees identified as progressives, 6 interviewees were members of the Orthodox community, 14 did not identify with any Ukrainian community, and 53 were Ukrainian Catholics; 14 Ukrainian Catholics reported that they also belonged to the Ukrainian National Federation. While Baba's life-long involvement in the Ukrainian Catholic community explains why the majority of our interviewees belonged to this community, it is also important to note that this community remains the most vibrant today. Sudbury's Orthodox, progressive, and nationalist Ukrainian organizations have largely disbanded and struggle to remain alive. Members have either died or have disconnected themselves from these organizations, which made finding willing interviewees was difficult.
St. Mary's Ukrainian Catholic Church Members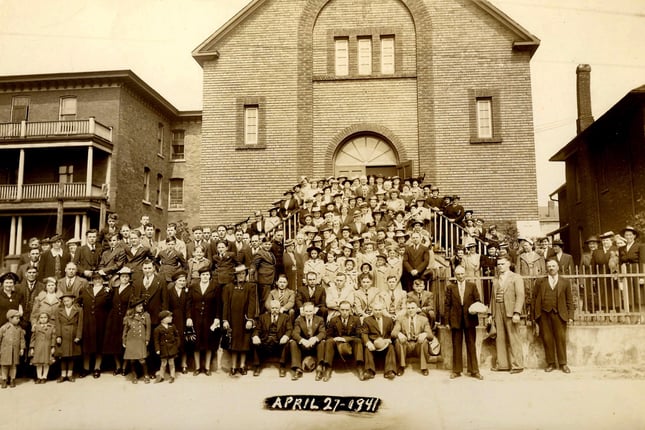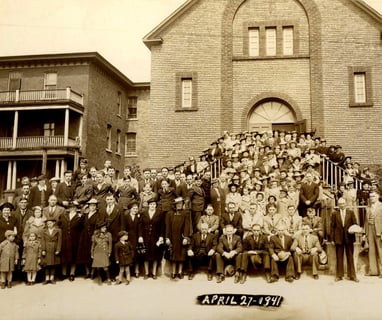 St. Mary's Ukrainian Catholic Church Parish Members, April 1941
Baba has been a member of St. Mary's Ukrainian Catholic Church since birth and so most of the people we interviewed had some relation to this place. We spoke with life-long parishioners, those who belonged to the women's league, individuals whose parents and grandparents had been founding members of the church, and people who participated in various fundraising and social functions, like teas, bazaars, and dances. Like Baba, these people spoke about the history of this space, its place in Sudbury's Ukrainian community, and how it has impacted their personal experiences and identities.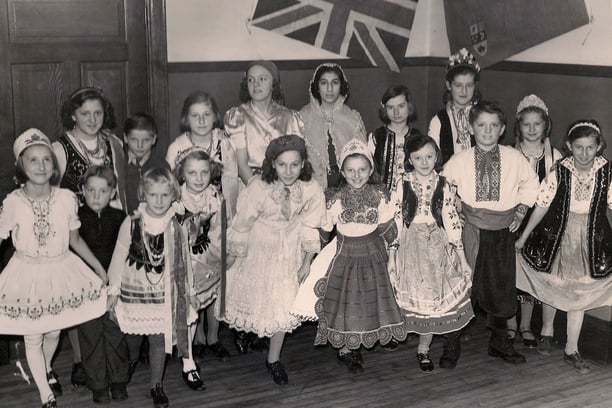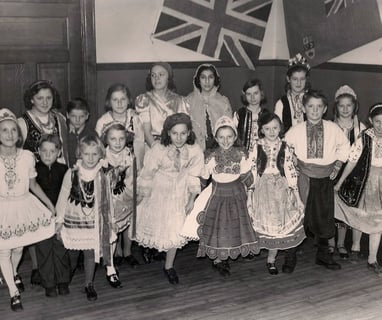 Donovan Friends and Neighbours
Since Baba grew up in the Donovan, we interviewed many people who also descended from this neighbourhood. These individuals included neighbours, friends, individuals who Baba babysat as children, and those who both worked and shopped at Max's General Store, where Baba was employed as a young woman. This was a group of politically, religiously, and ideologically diverse Sudburians who shared Baba's childhood memories of place, play, and Depression-era circumstances.
International Day at St. Aloysius Catholic School, 1939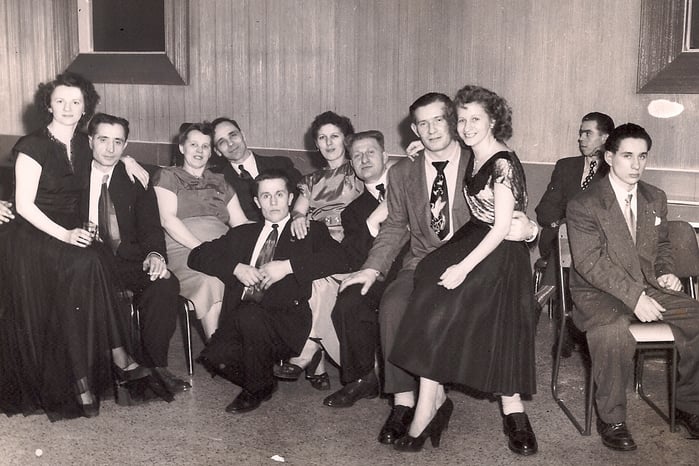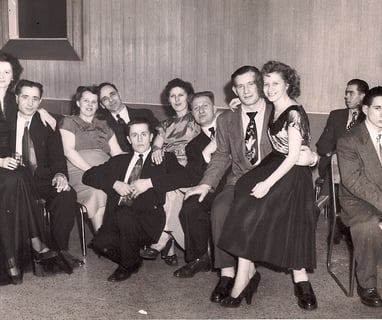 New Year's Eve Dance at the Polish Hall, 1950
Baba has always been a social person who easily makes friends in all kinds of social environments. While she may not have known them well, we nevertheless interviewed politically, religiously, and ideologically diverse Ukrainian men and women whom Baba had met at various points throughout her life. These individuals included those she met at dances, weddings, and parties as a young woman and people she interacted with throughout her life in the downtown core while shopping, banking, and socializing. These community acquaintances also included relatives and friends of Baba's more intimate social circle. Together, Baba and these interviewees spoke about community politics and shared experiences as Ukrainian Sudburians.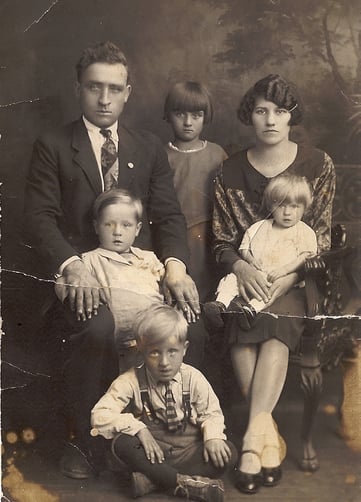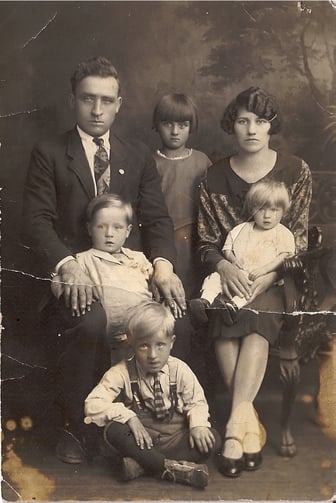 Members of Baba's immediate family, including (clockwise) her father Peter, her sister Barbara, her mother Annie (holding Baba), and her brothers Steve, Mike, and Peter (not pictured), had many friends and acquaintances. While she may not have known these people well, Baba did grow up with them nevertheless, in her home and on the streets of the Donovan. Making use of these connections, we interviewed individuals who were friends of Baba's parents and siblings as well as a number of people who lived in the Zyma home, at one time or another, as roomers. Through memories of the Zyma family, Baba and these interviewees shared intimate familial stories as well as ones about their lives in Sudbury during the first half of the twentieth century.